It's our first "Jobs Vacant" posting - and it's a very important one!
This morning, I was awoken by the sound of the doorbell, which turned out to be the TNT guy delivering these ....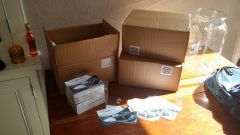 Yes, you see it correctly, 5000 brand new Chrysler Forum flyers, all ready to be dispatched and placed under windscreens.
So basically, we're now asking for your help.
If you'd like to give us a hand promoting the forums and getting your local Chrysler drivers onsite, drop me a message and I'll get a batch sent out to you
Or if you want to print up some of your own, the raw file is attached (105mm x 148mm @ 300DPI with a 1.5mm bleed)